Best of Pullman City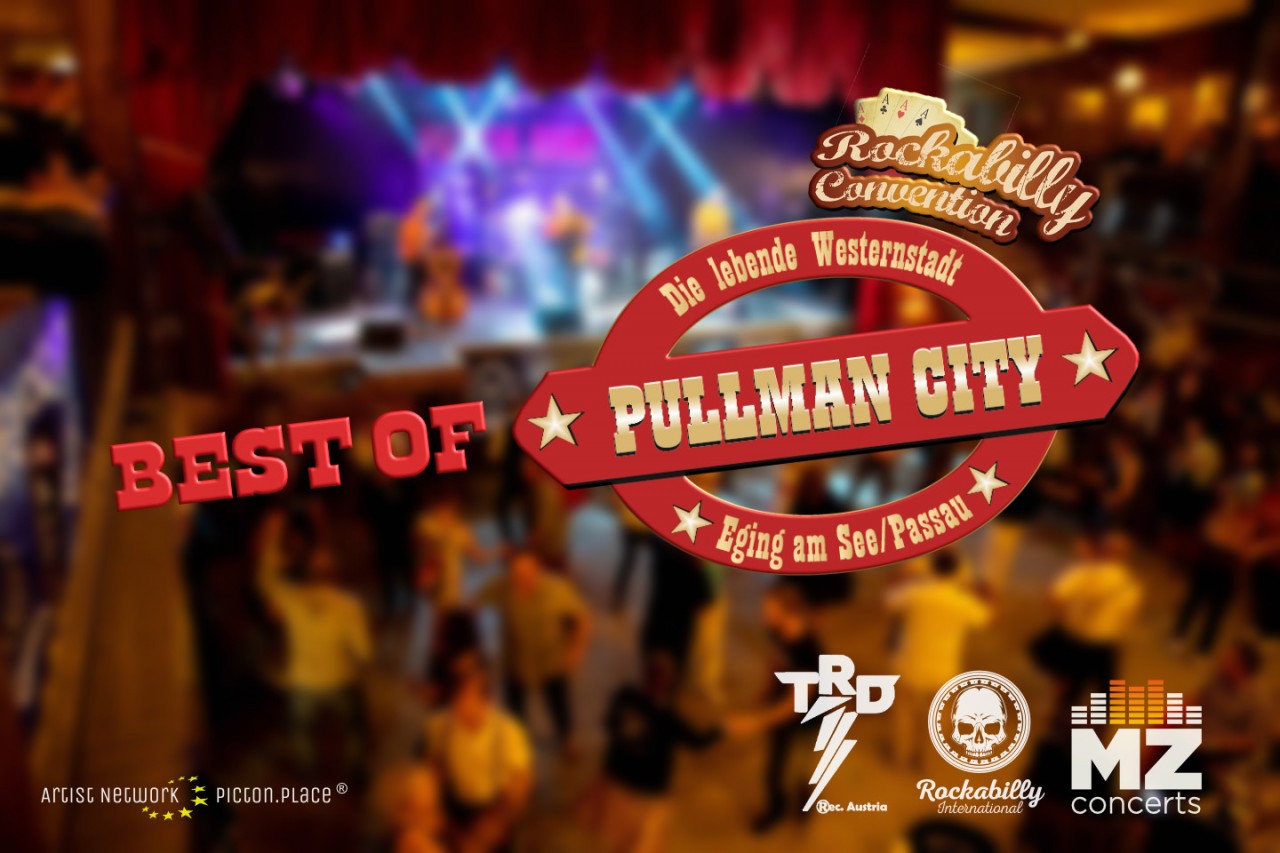 Hi Fans des gepflegten Rock'n'Rol, Rockabilly und Freunde des Country & Western - Sound & Style.
Nach dem Erfolg der "Best of Austrian Rock'n'Roll" Copilation CD scharrt das nächste Projekt des The Ridin Dudes Records Austria® Plattenlabels bereits in den Startlöchern: BEST OF PULLMAN CITY. Dieser Artikel des Picton.place-Magazins® lässt euch wieder hinter die Kulissen blicken, stellt die Bands vor, die Release- und "where-to-buy"-facts.
Pullman City, die "lebende Westernstadt" in Eging am See, ist ein Erlebnispark am Rande des Bayerischen Waldes zwischen Deggendorf und Passau, unweit zu Tschechien und Österreich, gelegen. Neben unzähligen Attraktionen bietet die Pullman City ein umfangreiches Musikprogramm, gekrönt von jährlich stattfindenden Festivals & Conventions.
Die CD wird unter dem jungen Plattenlabel "The Ridin Dudes Records Austria®" produziert. Für dieses Label zeichnet Rene Grohs Verantwortung. Ihm ist auch Idee und Initiative für "Best of Pullman City" zu verdanken. Mehr darüber hier.
Auch für dieses Projekt konnte MZ-Concerts als Partner und Sponsor gewonnen werden. Diese mit "Best of Austrian Rock'n'Roll" gestartete Österreichisch-Bayrische Kooperation findet hier ihre internationale Fortsetzung.
Die Bayrische Eventplattform MZ-Concerts veranstaltet Konzerte & Events in Deutschland. Ihr besonderes Augenmerk liegt auf dem Erkennen und Fördern vielversprechender Künstler und Produktionen nicht nur in Deutschland.
Wenn's um Internationalität geht, darf ein Partner nicht fehlen. Nomen est omen - Rockabilly international®. CEO Michael Kraus & COO René Mirnegg sind wieder mit on board.
Rockabilly International. Gefällt 52.497 Mal. Rockabilly International - with news and pictures from all over the world. PinUp, Rockabella, Tattoo Girls,...
In den nächsten Tagen stellen wir die Musiker und Bands näher vor. Release & Verkaufsinfos erscheinen, sobald sie feststehen - hier am Picton.place. Ihr könnt den Beitrag abonnieren, schaut wieder mal rein - STAY TUNED !
Don't talk it - walk it ! (in a line 😎)

Best of Pullman City
Ähnliche Beiträge
Kommentare
Derzeit gibt es keine Kommentare. Schreibe den ersten Kommentar!